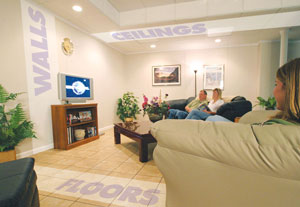 By Elizabeth Gormley
In many homes, the basement is a cold, dark storage space with concrete floors that's more than a little bit spooky.  But with today's basement finishing systems, it's possible to transform this scary area into a warm and welcoming place as bright as any room upstairs.  Basement finishing works like adding another livable level to your home—in as little as two weeks.  Think romper room, a buffered place for the kids to play, with lots of space for toys, games and musical instruments.  Or think game room, with a pool table, ping-pong, darts, and maybe a bar.  In a few easy steps, a finished basement will add massive value to your home.
In general, basement finishing systems consist of wall, ceiling, floor and window materials, on top of the labor.  Unlike drywall, where bacteria thrives, modern finishing systems are moisture, mold and mildew-resistant.  Still, if your basement leaks water, you must have it fixed before the finishing process.  The systems are made to withstand high humidity, but they do not waterproof.
A finished basement floor can include wall-to-wall carpet or tile, depending on the choice of the homeowner.  Floor systems are also available in an unfinished style, giving the appearance of natural wood so the choice can be made for area rugs.  Much like the rest of the house, the sky is the limit when it comes to basement flooring.  The materials used in basement finishing system floors are made to be extra durable and very mold-resistant.  Plush carpets will absorb noise best.  Regardless, the basement floor systems will have thick matting for warmth, freshness, and saving energy.  Window treatments are made of strong double glass for energy efficiency, while letting in the light from outside.
Like the floors, wall systems are matted and well insulated.  Gone are the sagging pieces of ceiling from furnished basements of the past.  Modern ceiling systems are handsome tile, many with "no sag" warranties that last for decades.  Again, the tiles will be insulated, so minimal noise from the fun in the basement will escape to the other levels of the house.
When the basement is finished, you will still have access to your plumbing, heating, and water systems.  Most finishing systems install removable panels around these functional components of your basement.
Obviously, the timetable and cost of installing a finishing system depends on the size of your basement.  But in a matter of weeks, you'll have a whole new world without the expense of an addition.  Basement finishing systems are created by professionals who understand the importance of having a basement transformed into a clean, fresh, warm place to entertain, play, study, work out, or simply relax, as quietly or loudly as you wish.
The Total Basement Finishing system is perfect for transforming your basement into a beautiful and comfortable room! Call or contact us online today for a free basement finishing quote!