By Jacques Bouchard
As the real estate slump continues to worsen and homes become more and more difficult to sell, homeowners are finding that the best option for gaining more living space for their family is to finish the basement.  In response to this ever-increasing trend, many companies are designing wall panels especially for use in a basement.
However, these companies are often providing products that are hastily researched, poorly created, or make false or misleading claims about how well they work and how appropriate they are for a basement finshing project.  Before you make a decision on the basement wall product that's right for your home, consider these five questions:
1. Will my basement walls resist water and moisture?
When it comes to a leak in the basement, it's not a matter of how, it's a matter of when. With the pipes, sinks, showers, water heaters, washing machines, toilets, and other water sources in the home, it's only a matter of time before something breaks.  The water that comes from that break is going to run downhill, and there's an excellent chance that this means it will make its way into the basement.
Along with plumbing leaks, groundwater and rainwater provides a continuous promise of damaging a finished basement as it sits outside your home.  Without warning, it's possible for it to leak through foundation wall cracks in the walls and floors, and water that builds up in basement window wells can leak through, pooling on the basement floor.
2. Can the basement walls resist mold?
Whether the basement is leaking or not, water is still able to pass through the porous concrete, stone, or tile foundation walls due to hydrostatic pressure.  This accumulated moisture collects behind and under the basement wall finishings, forming a moist, humid environment.  If these products have any organic material, then this environment will become a reasonable environment for mold, mildew, dust mites, and rot.  Materials like cloth, drywall, fiberglass, wood, string, paint, wallpaper, and most other common building materials will all have at least some organic material and are vulnerable to these types of damage.  As mold and dust mites grow on these materials, they will release spores and waste material into the air that will travel throughout the house and add unhealthy allergens to the home.
3. How durable is the basement wall material?
A basement is finished so it can be used.  This means that you may want pictures, shelves, cabinets, bookshelves, speakers, a plasma TV, mirrors, a wine rack, sports memorabilia, or any of countless other items mounted on the walls.  To decorate your basement the way you want to, it's best to have a strong, reliable wall material that can hold up to the weight.  Whether you install a game room, a children's play room, or any other area, you'll best appreciate a basement wall that will be able to hold up to daily wear and tear without crumbling, breaking, or cracking.  Long-lasting basement walls will also hold wash easily and be forgiving of marks and stains is also important, especially if children or pets are going to be in the room.  Test any wall product you're thinking of using by drawing a pencil line on a sample of the material.  If the pencil line can easily be removed, then you should be able to wask most stains from the walls.  Additionally, be wary of absorbent basement wall materials- a wall that can absorb moisture can hold water from basement leaks, spilled liquids, and pet stains.
4. How much basement wall insulation is included?
In Canada and northern United States, state building codes are including R-13 insulation on the walls as part of their building codes.  Whether or not this level of insulation is required in your area, it's good for the energy-efficiency of the home to add effective insulation to all basement walls.   Using hard foam insulation in the basement walls will add to the overall strength of the product, and if the panels also feature a hardboard ceramic panel, then heavy objects will be able to be mounted on the walls with no need to locate a stud.  All walls should be covered in a continuous, unbroken sheet of insulation that travels around the entire perimeter of the home or there will be a hole through which heat can pour out.
5. How well can my basement walls keep sound out?
If you're planning on using the basement as an area that will generate a lot of noise, you're going to want a produce that can isolate sound to that area.  However, drywall and other basement wall products do little to keep sound out, and some products even aid in its travel throughout the home!  Hardboard products tend to reflect sound back when it strikes them, making them an effective sound barrier.  Wall panels with soft insulation and cloth covering absorb sound instead of reflecting it, and are therefor effective at giving a room a hushed feel.
Basement Wall Comparison Chart
This chart compares six different common basement finishing wall products. For the sake of this chart, any material not warranted for more than three years is considered ineffective in that category.
| | | | | | | |
| --- | --- | --- | --- | --- | --- | --- |
| Product | Water Resistance | Mold Resistance | Durability | Insulation | Sound Absorbing | Sound Reflecting |
| Wood Paneling | NO | NO | YES | NO* | NO | NO |
| Standard Drywall | NO | NO | NO | NO* | NO | NO |
| Mold-Resistant Drywall | NO | NO | NO | NO* | NO | NO |
| Soft Insulation Wall Panels w/Cloth Covering | NO | NO | NO | YES | YES | NO |
| Hard Foam Insulation Wall Panels w/Hardboard Paneling | YES | YES | YES | YES | NO | YES |
* Insulation can be added to these products as well. Be sure it's warranted against water and mold.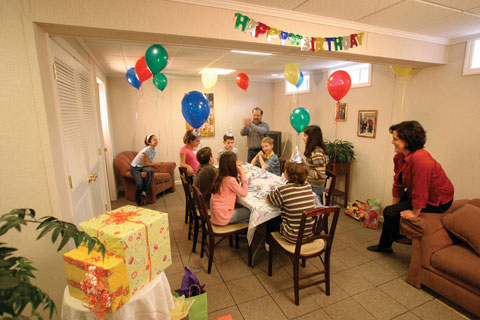 Wood paneling and all types of drywall (including mold-resistant drywall, whose warranty generally runs from 6 months to 3 years) is an inappropriate material for a basement finishing. Fiberglass and cloth basement wall paneling is better to use, with an average R-11 insulation and strong sound absorbtion qualities, but it's among the least durable and cleanable of all basement wall products, and water and moisture can still damage it fairly easily. Its spongelike insulation will quickly absorb moisture, and unwanted spills, liquids, and pet stains can damage it easily. Wood paneling is more resistant to spills and liquids, but it swells and buckles with moisture.  Wood also easily rots and supports the growth of mold, mildew, and dust mites.  Drywall manages moisture poorly, and when it gets wet, it will become soggy and damaged and will generally need to be replaced.
Hard-board insulation wall panels have the most advantages of all basement finishing wall products. Basement wall panels like Total Basement Finishing's EverLast Wall Panels include an amazing 50 year warranty against mold and moisture.  EverLast basement wall panels are durable enough to hold an amazing 300 pound per square foot with no need to locate a stud – a half inch drywall board using nylon wall drills has a 17.5 pound safe shear rating, and most soft insulation wall panels can hold no more than ten pounds! Hardboard wall panels with dense, solid foam insulation provide a reliable sound barrier and, and they're much more durable than any other material when it comes damage from dents and impacts. EverLast wall panels come with with an industry-leading R-13 insulation rating, reflecting back 99.987% of all heat and ensuring that the materials will be code-compliant for decades into the future.  These hard-foam insulated panels also include a Class A fireproofing rating, helping you home be safer than ever!
When you're looking for the best basement wall panels on the market, look for water-resistant, mold-resistant, durable material. The materials should include soundproofing properties and at least an R-13 insulation rating. The best way to make sure you're using the best product on the market is to ask many questions, do a lot of research, and above all, check out the warranty!