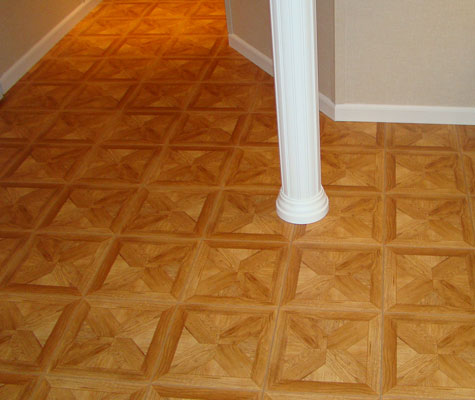 When finishing a basement, many homeowners have a hard time finding effective and long lasting flooring options. Because basements are humid by nature and prone to water problems, most materials that would work just fine upstairs will simply not work below grade. Let's examine the common options:
Hardwood, bamboo, or cork floors are a bad choice because they soak up moisture, and being organic, they favor mold growth and rot.
Carpets might work if they're made with 100% inorganic fibers, but they tend to soak up water and need to be installed over a vapor barrier or inorganic sub floor. Unfortunately, many homeowners use wooden sub floors. Again, we have the combination of moisture and organic material, raising a nice mold farm right under your feet.
Ceramic tiles are quite popular for this application but are very expensive. The installation is messy and time consuming, and they are terribly cold to the touch. In addition, they do not seal off moisture that can still seep in through grout Again, we will have a mold problem. Mold loves to grow in grout.
Vinyl is relatively inexpensive and, being made of plastic, you'd imagine it acts as a vapor barrier. However, it cannot be installed right over concrete, because water will still seep underneath and cause problems. Not to mention that your floors will also be very cold! You need a sub floor or a raised air space under the vinyl.
Laminates and the so-called "engineered wood" floors are currently being used for basements. Many of the options sold in hardware stores are made with organic compounds, (mold food). Many laminate flooring are also not 100% waterproof and will soak in water, causing them to rot.
Stained concrete finishes have the advantage of being resilient and versatile. The installation is usually messy and it takes a long time to cure. As beautiful as the final result can be, it will be just as cold as the tile, and the naturally porous concrete will soak up water. You also need to be sure that the sealant or varnish finish applied over stained concrete is able to handle hydrostatic pressure. Otherwise, it will peel off.
Additional consideration should be given to the installation and removal process in the event your basement has a water problem or accident in the future. The ideal flooring solution for a basement needs to be 100% inorganic, completely waterproof, easy to install, easy to remove for water seepage, and easy to repair if any damage occurs. Of course, it needs also to seal off moisture and provide some level of warmth, comfort and beauty.
Given all the above considerations, homeowners might think they are left with almost no options, and even less cost-effective ones. The general conception is that they will either have to invest big bucks or count on flooring replacements repeatedly over the years.
Technology to the rescue.
Today, you can find state-of-the-art flooring options specifically designed for basements that will give you the look and feel of the most popular flooring materials but with none of the potential problems. They are all 100% inorganic and waterproof interlocking floating flooring systems that are mold proof, long-lasting, and easy to install.
Total Basement Finishing offers the ThermalDry Basement Floor Matting system, which is designed to be used as sub floor for carpeting keeping it dry and away from the concrete slab.
They also offer appealing, cost effective "all-in-one" solutions (such as ThermalDry Carpeted Basement Flooring and ThermalDry Tiled Basement Flooring), that can be installed directly over the concrete with no need to spend money on sub floors.
The incredibly versatile and beautiful MillCreek Flooring reproduces the look and feel of real hardwood floors with no organic compounds to breed mold.
Additional advantages of using Total Basement Finishing specially designed basement flooring options:
>They can be applied directly over concrete as a floating floor with no need for adhesives. You can also walk over it and use the area immediately after installation. No drying or curing time. No mess.
They can be easily removed should you need to check the slab underneath for seepages
You can easily lift, switch, and replace individual damaged or worn tiles without ever having to disturb the surrounding ones.
Water accidents will not ruin your flooring. Just dry it up!
Because they isolate the walking surface from the concrete, they act as a thermal barrier as well. The finished surface is at least 10 degrees warmer than the concrete slab.
All flooring solutions are easy to clean an maintain. Should you move, you can just take your flooring system with you and install it in your new home. This makes them perfect for those who rent houses with unfinished basements.
As far as costs go, think that all-in-one solutions will save you money because you will not need additional subfloor. Add to that the savings in cooling and heating bills. Consider that your finished basement will add extra living space to your home without the cost and hassle of building an addition. Then compute the peace of mind of having floors that will not rot or breed mold for the years to come. You'll realize that the investment will pay for itself in many ways.
Note: All the TBF products mentioned in this article are only available through the Total Basement Finishing Dealership Network.